Posts for tag: bad breath
By Towson Center for Dental Implants and Periodontics
December 20, 2020

Most of us have no clue how the ancient holiday tradition of kissing under the mistletoe originated—but it sure doesn't stop us from keeping the tradition alive! Yet although eager to join a certain someone under the hanging twig, you still might hesitate to apply the old smackeroo out of fear your breath isn't as fresh as it should be.
Bad breath has tormented us humans long before we started osculating (kissing) under trimmings of viscum album (the scientific name for mistletoe). Our resulting discomfort has inspired a myriad of remedies, from ancient Egyptian toothpastes containing natron (also used in embalming mummies) to 19th Century American breath mints made of ingredients like cardamom, essence of rose and licorice root.
Today, we're much better at relieving common bad breath because we've uncovered its primary source: bits of food and mucus accompanied by oral bacteria on undisturbed areas the mouth, particularly the tongue. As the debris interacts with the bacteria, it releases chemical compounds called VSCs (volatile sulfur compounds) that emit a classic rotten egg smell.
The key then is to remove the source of these VSCs. You might think that means doing a better job of brushing and flossing, and you're right. But it can involve more.
Keeping your tongue clean. Since the tongue is a prime collecting point for debris and bacteria, it makes sense to keep it clean. That might simply mean brushing its surface when you brush your teeth. You might, however, benefit from using a tongue scraper if you have more stubborn accumulations.
Maintaining your dentures. These and other dental appliances can accumulate food debris that if not removed can cause a "stink." You should clean dentures daily using a denture cleaner or mild antibacterial soap and then rinse them off thoroughly. It also helps to take them out at bedtime.
Seeking dental care. Another source of bad breath could be tooth decay or gum disease, or even older dental work in need of repair. Treating these and other conditions (like an oral yeast infection) not only improves your dental health, it could do wonders for your breath.
There are also other sources of foul breath unrelated to the mouth—and some can be serious diseases like diabetes, cancer or lung infections. If your chronic bad breath doesn't respond to your hygiene efforts, it's a good idea to get checked medically.
Now as to holiday traditions, we can't help you maneuver your prospective sweetheart under the mistletoe with you—you're on your own, pal (or gal). But by following these tips for sound oral care, we're sure you'll have the "fresh breath" confidence to follow through from there.
If you would like more information about eliminating chronic bad breath, please contact us or schedule a consultation. To learn more, read the Dear Doctor magazine article "Bad Breath."
By Towson Center for Dental Implants and Periodontics
August 06, 2019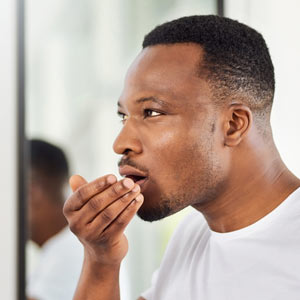 Be sure to mark August 6 on your calendars—and not just because it's the day in 1661 when the Dutch sold Brazil to Portugal, or when President Johnson signed the Voting Rights Act in 1965, or when the Ramones performed for the last time in 1996. August 6 also happens to be National Fresh Breath Day! But since fresh breath is important to us every day, we like to celebrate all month long.
Celebrating fresh breath might not seem as noteworthy as these other historical moments, but if you're a frequent halitosis (bad breath) sufferer, you know it can be downright embarrassing. More importantly, it could be a sign of a deeper health problem. It turns out there are a number of reasons why you might have bad breath. Here are the most common.
You're not adequately cleaning your mouth. Certain strains of bacteria are known for emitting volatile sulfur compounds, which give rise to that "rotten egg" smell and are a major component of bad breath. Because they feed on leftover sugars and proteins from food, you can keep them and their noxious odors at bay by brushing and flossing your teeth and brushing the broad surface of the tongue, a prime breeding ground for these bacteria.
You're not producing enough saliva. This unsung bodily fluid is a key part of good oral health. Besides helping to rinse the mouth of food particles after eating, saliva also fights odor-causing bacteria. If your mouth is dry because you're not producing enough saliva, bacteria can grow and create a number of oral health problems, including bad breath. You may be able to relieve chronic dry mouth and accompanying bad breath by using saliva-boosting agents or drinking more water. You should also talk to your doctor about any medications you're taking that might interfere with saliva production.
It could be caused by disease. Tooth decay or periodontal (gum) disease naturally give rise to bad breath—but so can other diseases like diabetes, cancer or respiratory infections. As you're dealing with these other conditions, you may also need to contend with bad breath as a side effect. You can help reduce any disease-based odors by keeping up your daily oral hygiene, especially if you're undergoing treatment for a systemic condition. Obtaining treatment, particularly if you have tooth decay or gum disease, will help reduce these embarrassing foul odors.
National Fresh Breath Day may not share the same pedestal with other momentous August dates, but if it reminds you to keep your mouth clean and see your dentist regularly, fresh breath certainly deserves its own day.
If you would like more information about the causes and remedies for bad breath, please contact us or schedule an appointment for a consultation. To learn more, read the Dear Doctor magazine articles "Bad Breath: More Than Just Embarrassing" and "Dry Mouth."
By Towson Center for Dental Implants and Periodontics
July 02, 2016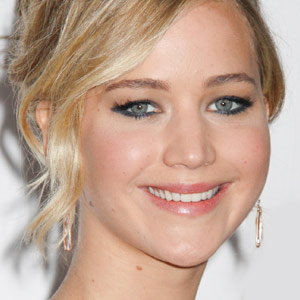 Exchanging passionate kisses with big-screen star Jennifer Lawrence might sound like a dream come true. But according to Liam Hemsworth, her Hunger Games co-star, it could also be a nightmare… because J.Law's breath wasn't always fresh. "Anytime I had to kiss Jennifer was pretty uncomfortable," Hemsworth said on The Tonight Show.
Lawrence said the problem resulted from her inadvertently consuming tuna or garlic before the lip-locking scenes; fortunately, the two stars were able to share a laugh about it later. But for many people, bad breath is no joke. It can lead to embarrassment and social difficulties — and it occasionally signifies a more serious problem. So what causes bad breath, and what can you do about it?
In 9 out of 10 cases, bad breath originates in the mouth. (In rare situations, it results from a medical issue in another part of the body, such as liver disease or a lung infection.) The foul odors associated with bad breath can be temporarily masked with mouthwash or breath mints — but in order to really control it, we need to find out exactly what's causing the problem, and address its source.
As Lawrence and Hemsworth found out, some foods and beverages can indeed cause a malodorous mouth. Onions, garlic, alcohol and coffee are deservedly blamed for this. Tobacco products are also big contributors to bad breath — which is one more reason to quit. But fasting isn't the answer either: stop eating for long enough and another set of foul-smelling substances will be released. Your best bet is to stay well hydrated and snack on crisp, fresh foods like celery, apples or parsley.
And speaking of hydration (or the lack of it): Mouth dryness and reduced salivary flow during the nighttime hours is what causes "morning breath." Certain health issues and some medications can also cause "dry mouth," or xerostomia. Drinking plenty of water can encourage the production of healthy saliva — but if that's not enough, tell us about it: We may recommend switching medications (if possible), chewing xylitol gum or using a saliva substitute.
Finally, maintaining excellent oral hygiene is a great way to avoid bad breath. The goal of oral hygiene is to control the harmful bacteria that live in your mouth. These microorganisms can cause gum disease, tooth decay, and bad breath — so keeping them in check is good for your overall oral health. Remember to brush twice and floss once daily, stay away from sugary foods and beverages, and visit the dental office regularly for checkups and professional cleanings.
So did J.Law apologize for the malodorous makeout session? Not exactly. "[For] Bradley Cooper, Christian Bale, yeah, I'll brush my teeth," she laughed.
Hemsworth jokingly agreed: "If I was kissing Christian Bale I probably would have brushed my teeth too. With you, it's like, 'Eh. Whatever.'"
If you would like more information about bad breath and oral hygiene, please contact us or schedule an appointment for a consultation. You can learn more by reading the Dear Doctor magazine article "Bad Breath: More than Just Embarrassing."